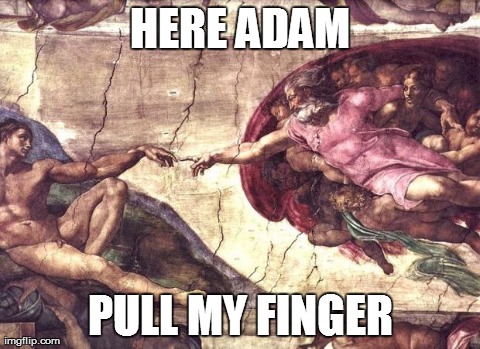 The trouble I'm having with believing in signs from God is that I'm starting to see them everywhere. That tiny cloud way up there: It's shaped like an eagle! This means—no, wait. It's starting to evaporate. It's gone. That means—
Here's what it means. God is messing with my head. Big time.
"Look, Pat," God is saying. "Here's a sign. No—over there!—that's the sign. Or this one! Or this one! Try this one: What do you think it means?"
I tell God what I think it means.
"Ha-ha! Fooled ya!" God says. Then God shows me more signs and ask what they mean. I start to answer, and God says, "They don't mean anything. Ha-ha! Fooled ya!"
"I've had enough," I tell God. "You're making me feel like a fool, all right."
"I know you are but what am I?" God replies.
"C'mon," I grumble. "That doesn't even make sense."
"Okie-dokie," God says. "How about a few riddles?" Like I have a choice.
God asks me riddles. They are unfathomable. I answer them by saying, "I don't know. I don't know that one. I don't know that one either."
God smirks.
"I knew you wouldn't get them. Ha-ha!"
God, of course, is a He. If God were a She, She wouldn't mess with my head. God and I would sit down and talk in a beautiful, quiet garden, and She would tell me answers to questions I was about to ask Her. I wish God were my therapist. She couldn't heal me—some of us are beyond help and healing—but at least She could help me see how to accept and live with my imperfections.
I get lost in this thought for a moment, and then something taps me on the shoulder. It's God. He's holding out something in His hand.
"Pick a card," God says. "Any card."
"Can't you just leave me alone?" I ask.
"Oh, noooooo," God says. "That wouldn't be any fun now, would it?"